What people say about Capsule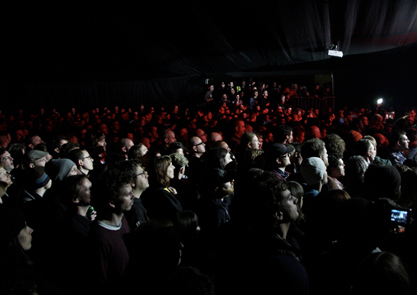 The Birmingham-based Supersonic Festival, now in its ninth year, has a distinct identity in the UK's increasingly crowded festival calendar – but it's also commendably hard to sum that identity up in a few words.
Frieze Magazine on Supersonic Festival
a willingness to escape the traditional
Spencer Hickman, Rough Trade
fiercely independent, outward looking and highly collaborative
Mark Ball, director of Lift Festival
The work with Capsule has been incredibly rewarding. Home of Metal has been the most successful festival in the Black Country in recent history. Bringing some of the highest visitor numbers to the region for an event of this kind, attracted more press, media and braodcast coverage than any other event or festival and created more political and local authority director interest than any other events programme – all due to Capsule's diligent and hard efforts. I would recommend Capsule to others as an organisation that do go that one step further and really make a difference
Max Bailey, Black Country Arts Partnership
The personal approach as real enthusiastic members of the fanbase of the music they are curating, as well as being the curators themselves, provides a level of respect and integration which has continued to be a pleasure to encounter
Stephen O'Malley, artist and musician
Capsule are responsible for initiating an array of consistently diverse and engaging projects, including projects in which I have played a role. Each occasion has been facilitated by an openness to communication which has assisted in the development of the project and has been marked by their wanton enthusiasm and determined professionalism which create an ideal environment for collaboration
Nicholas Bullen, artist and founding member of Napalm Death
I like to think of Capsule as the peristaltic pump of the independent music scene , a reliable heart pumping blood to the tips  and branches of good music wherever that might be
Geoff Dolman, Static Caravan
a highly visual festival experience with some of the most eclectic, deconstructed musical minds on the planet
Clash Music on Supersonic Festival
Evolving, challenging music that demands interaction from the audience is Supersonic's speciality.
Stool Pigeon on Supersonic Festival
the most consistently brilliant and forward-looking festival in the UK, if not the world
Vice on Supersonic Festival
Contrast, without which we cannot perceive the world, is a phenomenon that defies homogenisation, where pleasure is relief from pain, and pain can be a prime for pleasure; where art is opposed to commerce, and the mundane is pushed back, often all too temporarily, by creativity. Capsule, the curators of the annual Supersonic Festival clearly understand this: from the coarse granularity of its urban, industrial environment so strongly set apart from the fallow fields of most other  festivals, to the finer details of its handpicked programme of new music, installations, workshops, walks and talks, all deftly juxtaposed across a long weekend, the festival never fails to nurture new connections and rupture old ones.
Musique Machine on Supersonic Festival
memorable to me and I'm sure to each and every attendee, was the richness of the events. The visual art was extraordinary, the Birmingham Museum show alone was something that a few of us thought of hiding out at for a few weeks, the movies, the MUSIC!!
Professor Deena Weinstein on Home of Metal
Staff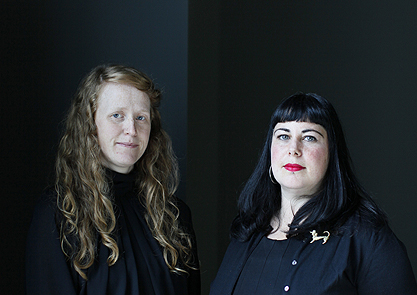 Capsule was founded in 1999 by Jenny Moore and Lisa Meyer.
Director: Lisa Meyer
Strategy and Operations Manager: Anne Parry
Programme Coordinator: Sarah Lafford
Events Coordinator: Laura Coult
Capsule also work with a range of people on different projects including:
Project Manager – Library of Birmingham Opening Season: Caitlin Griffiths www.caitlingriffiths.com
Photography: Katja Ogrin www.katjaogrinphotography.com
Filming: HTF Media www.htf-media.blogspot.co.uk
Production: Urban Audio www.urban-audio.co.uk
Design and illustration: David Hand www.alongbirdalley.co.uk
Website: Jacob Masters www.gabba.net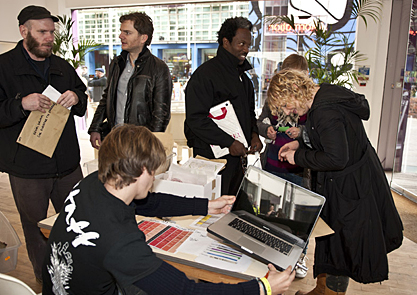 Volunteers
There are plenty of opportunities to be a volunteer at Capsule and join our team, you are able to gain an overview of how our events work, and to give real input and value to what we do. In addition we have a number of intern opportunities during the lead up of Supersonic Festival. Get in contact via  volunteer[at]capsule.org.uk
Advisory Committee
Angela Maxwell (Chair)
Angela Maxwell achieved prominence as one of the West Midlands' most dynamic entrepreneurs. In 2007 Angela was one of just 200 businesswomen honoured by the Queen at Buckingham Palace, in recognition of her outstanding contribution to UK trade and industry and was awarded an OBE for Services to Business in the Birthday Honours in 2010.  A former European adviser to UK Trade & Investment, a finalist in Businesswoman of the Year 2005 and a Board member of Advantage West Midlands, the regional development agency 2007 – 20012. Angela also sits on the West Midlands Enterprise Board.
Since 2009 Angela has been a Non Executive Director of University Hospitals Birmingham Foundation Trust and is Chair of the Investment Committee.  Angela has a Law degree from Oxford University, an MA from San Diego State University and an MBA with distinction from Sheffield Business School.
Anna Russell
General Manager for the Bristol portfolio of properties for National Trust and part of the strategic lead team for development of National Trust in cities. Anna is currently leader of a team of 60 people across three main sites. "Home of Metal is absolutely the sort of project that the National Trust should be championing in the future. Coming to Supersonic and Capsule gigs since the beginning of time … and have loved every minute of it."
Gina Crane
Gina has worked in the grant-making sector for five years, and is currently Impact and Learning Officer at Esmée Fairbairn Foundation, one of the largest independent grant-makers in the UK. Gina works with grant-holders as well as the Foundation itself to help them understand, talk about, and increase the impact they have on those they work with, on their sectors and on decision-makers. Before joining the Foundation in 2007 Gina worked at the Courtauld Institute of Art, literary and talent agents PFD, and as a fundraiser and Alumni Officer at Trinity Hall, Cambridge. Gina is also a marathon runner and the Melvins' biggest fan.
Mark Titchner
Mark Titchner is an artist based in London.  His practice employs a wide range of media from large scale installation to performance but is predominantly concerned with the use and manipulation of language. Solo exhibitions include 'Please believe these days will pass' at the Art Gallery of Ontario, 'Run Black River Run' at Baltic, Gateshead and 'Now for Reality' at the Macedonian Museum for Contemporary Art, Thessaloniki. His exhibition 'Be true to your oblivion' at The New Art Gallery Walsall was part of the Home of Metal project. He was nominated for the Turner Prize in 2006 and took part in the 52nd Venice Biennale in 2007. Mark also quite likes music.
Warren Fisher
Managing director of Urban Audio Productions Ltd, suppliers of high end professional audio systems and event production. Working with a broad range of clients within every aspect of production, from touring and festivals to conferences and corporate events. Warren and his team have been working with Supersonic Festival since 2005 ensuring the exceptional production value that we have become renowned for.
Please note our new postal address:
Capsule
Unit 316, Custard Factory
Gibb street
Digbeth
Birmingham UK
B9 4AA
0121 7730402
info(at)capsule.org.uk
Follow us on Twitter @supersonicfest
Please note, we welcome new artists to send samples of their work for future consideration however Capsule receive a lot of emails and letters from artists and whilst we endeavour to look into everything that's sent our way, we cannot guarantee a personal response.