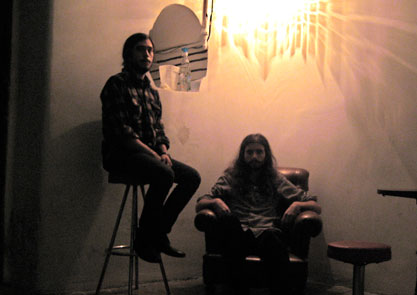 Reviews are coming for Barn Owl's new record 'V'. This time around the drone doom duo are exploring the use of synths and you can hear them perform this new material at their show at the beautiful St Paul's Church in the Jewellery Quarter.
"…there's a much larger keyboard profile on this new album. This moves Barn Owl's basic architecture away from the colleagues in the string-drone division of the sub-underground, and closer to some of its more kosmische technicians. The Wire
"V comes as a spellbinding corrective, with vast synth banks lending a woven-wire near-dub framework to Evan Caminiti and Porras' guitar drones." MOJO (4/5)
Review of the track 'The Long Shadow':
"Echoing menace, layers of desolate synthesisers and looped guitar minimalism from the San Francisco drone duo of Jon Porras and Evan Caminiti" Uncut (6/10)
Tickets are available for Saturday 27th April from www.theticketsellers.co.uk, support comes from Grumbling Fur and Ex Easter Island Head.
We're currently enjoying the video for the track 'Void Redux'