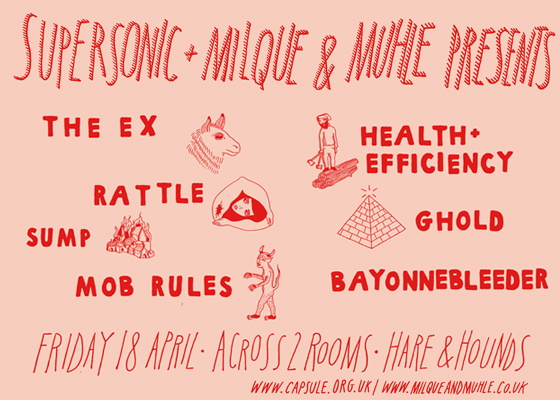 This is it. The Ex hit up Birmingham's Hare & Hounds this Friday for our all-nighter consisting of 2 stages and 7 bands, as well as late night DJ sets. It's going to be a Good Friday after all!
Advance tickets are available for just a tenner here.
If you don't know what to expect from The Ex, then you might be interested to hear what's been said about them…
" guitars played with screwdrivers from stalwarts of the Dutch power-improv scene the Ex, who've played more than 1,800 shows in their time. Spearheaded by axe-wielders
Terrie Hessels and Andy Moor, along with Katherina Bornefeld on drums and Arnold De Boer on vocals, the group started out in the late 70s as a punk outfit. They still do everything themselves, from roadying to releases, and have racked up an eclectic list of regular collaborators, from Ethiopian musician Getatchew Mekuria through power-jazz trio the Thing to jazz drummer Han Bennink."
– The Guardian
"They are the most interesting musical unit in the world today…Go and see the Ex and you will hear rhythms you have never heard before…a sweaty seething party, an uplifting, joyful celebration." – The Quietus
You can also listen to Capsule's April playlist to sample some of the artists playing this Friday.
Get your tickets here.