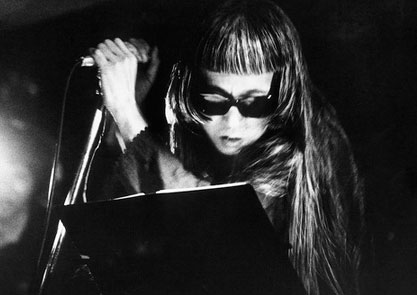 "Keiji Haino's 30-year career has encompassed a dizzying range of approaches from wild, guitar-led ensemble rock and near-Neolithic drumming; live electronics and untutored explorations of lute and flute; and the deconsecrated peals of solo gamelan performance. He has also collaborated widely with the likes of Derek Bailey, Merzbow, Jim O'Rourke and Tony Conrad. Throughout, Haino has retained a visionary focus upon temporary suspension through noise (and silence) whilst refining a mercurial, highly distinctive method and an arrestingly dramatic on-stage presence that borrows the raiments of performance art." Cafe Oto
Haino leads the power trio Nazoranai, forging heavy psych and noise with Stephen O'Malley of Sunn0))) and Oren Ambarchi.  Haino is a master at pushing the possibilities of the guitar/bass/drums format. If you've not witnessed Haino live before, we thoroughly recommend you surrender yourself over. They play the CBSO Centre next Tuesday 9th July.
The last time Haino played Birmingham was Supersonic Festival 2008 with Merzbow, where the two artists almost seemed in battle on stage!

Tickets for this event are £15 in advance from www.theticketsellers.co.uk. Nicholas Bullen will also perform, launching his new 'Component Fixations' record.