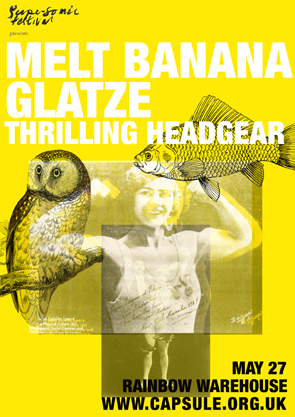 John Peel described the Melt Banana live experience as "Simply one of the most extraordinary performances I have ever seen and ever heard … just mesmerizing, absolutely astonishing."
Expect impossible to memorize lyrics, relentless tempos and one of a kind prog-core. Melt Banana are Tokyo's twisted take on punk rock. Now a duo comprising Agata on guitar and singer Yako (who signature staccato vocal style makes the band the unique monster it is), Melt Banana will be bring their wildly fun, frenzied and unpredictable show to Birmingham this May 27th at the Rainbow Warehouse. Advance tickets here.
Joining them will be Brum's Glatze and Thrilling Headgear.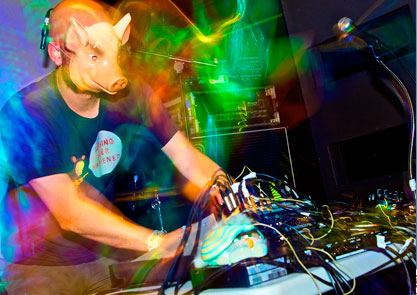 Glatze "is all about attention grabbing, energetic live performances" says the man behind it all, Sam Underwood. Drawing influence from the likes of Henry Rollins, Afrirampo, rave DJs such as Sy and Slipmatt, and of course Melt Banana, expect madcap inventions and theatricalities with a fun-at-all-costs mentality!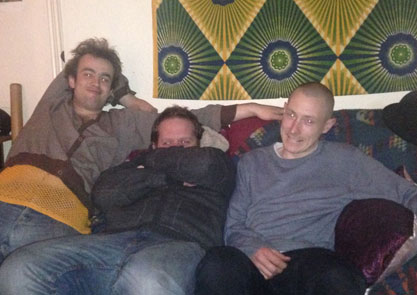 Meanwhile Thrilling Headgear are set to rock out with their Spock out, compelling us to think about what we listen to and why. As guitarist Neil Bailey states "… music to me is story-telling. Influence is nothing without critical function. You have to think about why you like what you like."  We honestly have no idea how this story will unfold, we just know it's going to be rad… with Ex/current members of Stinky Wizzleteat/Mothertrucker/Opium Lord how could it not be.
For  more information about all 3 acts, sample tracks and Q&A's go here, here & here! Our events page on Facebook can also be found here. See you at the show! Buy your ticket now, here.