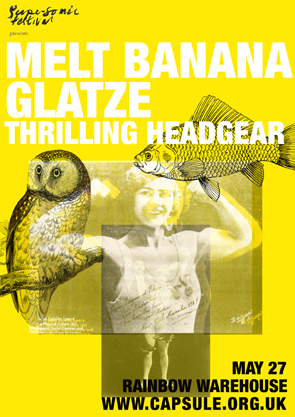 Listen to MELT BANANA's quirky cover of Queen's classic anthem 'We Will Rock You'. It starts off fairly normal, but things get distinctively more Melt Banana-like as the track progresses…
Japanoise at it's best, don't miss a rare opportunity to see Melt Banana play this May 27th at the Rainbow Warehouse in Digbeth.
"One of the primary misunderstandings that people who do not listen to extreme metal or punk frequently articulate is that extreme music must be angry and negative. ….  One of the coolest things about Melt-Banana is that the mirth, whimsy, and elation in their music is almost unmistakable, even to people who cannot wrap their minds around extreme music."  – Benjamin Hedge Olson, PopMatters
Advance tickets are available now from here & will cost you less than on the door on the night. Support comes from THRILLING HEADGEAR and Sam Underwood's 'nutjob' solo project GLATZE.

For more information about all of these acts and to sample tracks read our preview.