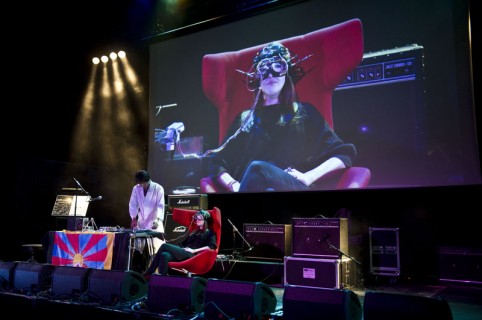 Masaki Batoh at Bring To Light
Each end of year round up we've done in recent times seems to involve a few 'wow, huge year' mutters, but 2013 might have just surpassed them all. We produced a four-month opening season for Europe's largest public library as well as our year round Capsule programme; to feature all the stuff we're proud to have presented would be damn near impossible, but here are just some of our highlights of an epic year. Images by Katja Ogrin.
Discovery season at Library of Birmingham
 Together We Breathe – opening day
The season began with a magnificent performance by over 100 brass players. Encircling the crowds on opening day in the Book Rotunda, Together We Breathe brought together horns, trumpets, trombones, cornets and tubas to create a mass of sound. The performance was created by Australian sound artists Super Critical Mass and the project was documented by the BBC for the Culture Show.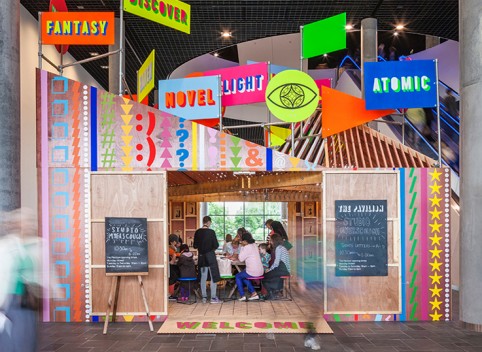 Pavilion Photography is by Gareth Gardner
The Pavilion and creative residencies
Studio Myerscough created a structure to act as a billboard for the entire Discovery Programme. Situated in the Library foyer, The Pavilion housed a rolling programme of creative residencies. A neon crown of signs uses words that originated from discussions and workshops with the Birmingham 2022 group. Residencies included Craftspace inviting stories of migration, the stunning Library of Lost Books, Stan's Café's Commentators and The Outcrowd Collective's delving in the House of Beorma Archive.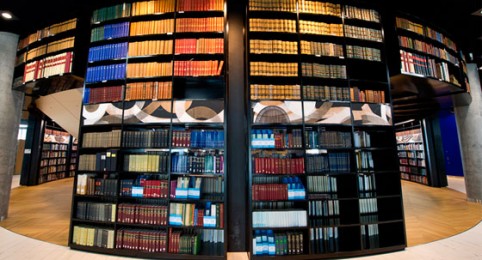 Lucy McLauchlan's piece spans the Book Rotunda
Discovery Trail
Capsule curated a trail of art works to lead visitors around the library. Laura Kate Chapman's illustrations were inspired by the Parker Collection of Children's Books and Games, Matt Watkins created an animation piece inspired by the world's most expensive book and Lucy Lucy McLauchlan's site specific work in the Book Rotunda gave some remembrance to John Madin's library.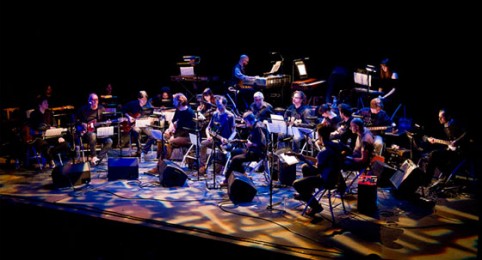 Discover New Music
A series of live music performances showcased some of the most exciting music around. Rhys Chatham and Charlemagne Palestine performed a UK exclusive collaboration, with added cuddly toys and audience debate and Portishead's Adrian Utley headed a large-scale guitar orchestra.  Rise of Birmingham saw some of Capsule favourite bands from the region perform in the library, including Victories at Sea and Free School.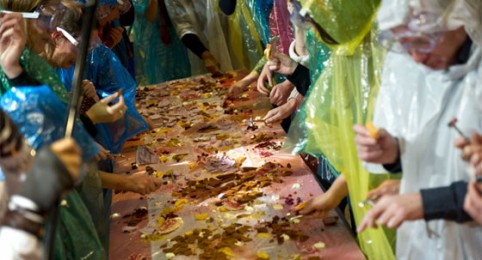 Tucking into dessert at Down the Rabbit Hole
Other highlights included the literary inspired dining experience Down the Rabbit Hole, presented by Companis, and Volume: Birmingham's Art, Book & Print fair with a keynote from Bill Drummond. We're really proud of the Birmingham 2022 project, where a group of young people worked with us on Discovery season brochure, and were given a platform to ponder the shape of culture in ten years.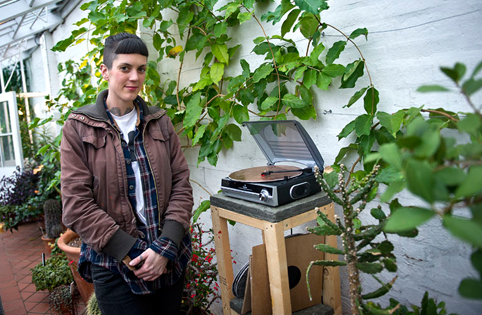 University of Birmingham artist residency
We embarked upon a new partnership with the University of Birmingham, supporting an artist to make new work in response to the university's varied collections. Sound artist Sarah Farmer spent a number of months researching at the Lapworth Museum of Geology and the Winterbourne botanical collection and created a number of sound based works, as well as screenprints, in response to her time there. It was very exciting to introduce an artist to this collection, there's a wealth of stuff to draw inspiration from and we look forward to doing more work with the university in the future.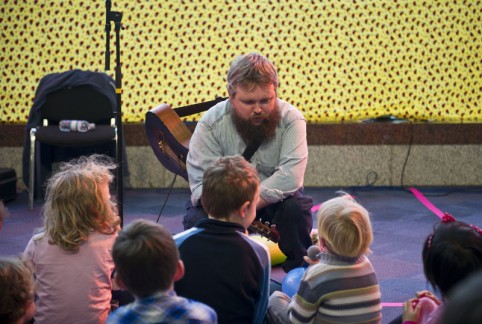 Richard Dawson performed a Kids Gig
Our mini Supersonic saw us invading the library with new music, from Masaki Batoh's brain pulse noise, Robedoor's bass heavy drone and the filthy noise rock of Evil Blizzard, we didn't hold back. We kicked it all off at the Rainbow from a messy Friday night with Sleaford Mods (video), Dinos Chapman and the fabulous Shangaan Electro who also performed a free show in the library amphitheatre. Other highlights included Sarah Angliss and her theramin laden story telling, an info show around pioneer Delia Derbyshire and a Kids Gig performance from Capsule favourite Richard Dawson.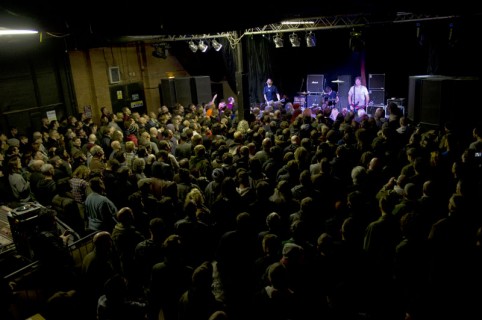 Shellac at the Rainbow Warehouse
Live shows
Our first live show of the year was such a standout, Barn Owl, Grumbling Fur and Ex Easter Island at the stunning St Paul's church. Other highlights of the year  have included Nazoranai (Stephen O'Malley, Keiji Haino, Oren Ambarchi) and Nicholas Bullen at the CBSO Centre and a night with Mississippi records exploring the phenomenal Alan Lomax archive with Vivid Projects. And let's not forget that the mighty Shellac were back in Birmingham last month, thanks to all who came and made it such a fun show, the band said you were a particularly lovely crowd!
Thanks to all who have come along, watch this space for news of next year's programme.